Apatosaurus was a sauropod dinosaur that lived in the
Jurassic
period of the Mesozoic.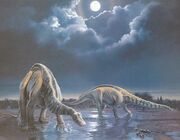 http://updatecenter.britannica.com/eb/image?binaryId=8052&rendTypeId=34
Apatosaurus is considered by most to be the benchmark sauropod. About 75 feet long, and weighing in at over 25 tons, this creature was a standard Diplodocid, with a long neck, whiplike tail, massive bulk, thick legs, and a long, suspension bridge-like design.
Enviornment
Edit
The Western U.S. 150 million years ago would have been a wet, hot, mostly plains habitat with sparse forested areas. Apatosaurus wouls have lived in the plains regions, as a low-foliage grazer.
Apatosaurus lived alongside other herbivores like his fellow sauropods, Brachiosaurus and Diplodocus, and other plant eaters like Dryosaurus and Stegosaurus. It was likely hunted by large, pack-hunting Allosaurids, like Allosaurus and Torvosaurus. Apatosaurus was probably a herd animal.
Length: 75 to 85 feet (22.5 to 25.5 metres)
Height: 22.5 to 28 feet (6.9 to 8.5 metres)
Weight: 31 tonnes
Location: Dakota, Wyoming, Utah, Montana, Washington DC,
Timeline: 167 to 145 mya
Community content is available under
CC-BY-SA
unless otherwise noted.