Welcome to the Prehistoric Wiki ! Feel free to edit any page on this wiki. Please no vandalisim, or actions will be taken to ensure you do not come back!

Heres the list of the extinctions of Earth's Past:
6 Great extinction events :
Ordovician–Silurian extinction event (450 million years ago)
Late Devonian extinction (377 million years ago)
Permian–Triassic extinction event (250 million years ago)
Triassic–Jurassic extinction event (200 million years ago)
Cretaceous–Paleogene extinction event (65 million years ago)
Quaternary extinction event (74,000 years ago)
Minor extinctions: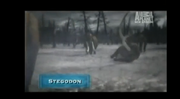 Community content is available under
CC-BY-SA
unless otherwise noted.